ⓒ 2009 PopGames Inc.
One classical lament of computer gaming is the ever increasing of processing power needed. Improved graphical effects do not automatically translate into fun, and one cannot but think they cannot compete with the games of yore, that ran on pathetic processors and used way more disk space than the background image of this blog. For having played Mac OS X ports of two of my favorites Commodore 64 games, Elite and Paradroid, I know in retrospect they are not that fun anymore, that the bar has insensibly risen during the years. Still, the rise of flash games has shown that games can be fun with limited capacities.
It was Angel who mentioned Plant vs. Zombie a small Mac OS X game which ended being sufficiently addictive to keep me playing at unreasonable hours, something that did not happen since years. The goal is basically to stop hordes of zombies that try to cross your lawn, this is done by planting flowers and shrubs that block or deviate or destroy zombies. Basically this is tower defense game with fun cartoonish graphics. The game could have been written by the folk behind Day of Tentacle. You are mentored in the game by your crazy neighbor, whose rants are usually obscure references. The game is only 32 Megabytes and runs in a 640 × 400 window, so the game is not really in high-resolution, you could probably run it off a USB key. The official game requirements are Core Duo processor, but the binary is Universal, so I suspect it would run fine on a G5.
Bottom line, this is a really fun game that was certainly worth the 25 Swiss francs I payed for it and a game I really recommend if you own a Mac.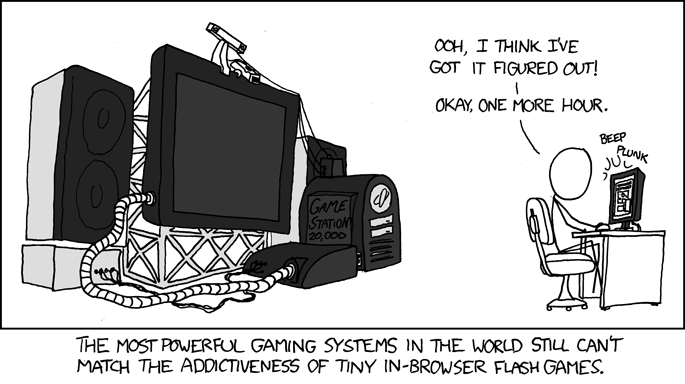 ⓒ Randall Munroe /
xkcd.com
Creative Commons Attribution Non Commercial 2.5 License.